A beautiful Christmas gift from caring people
On December 1, I had the honor of sharing Ali's story with an incredible group of compassionate, caring individuals who gave a beautiful donation to Ali's foundation as a Christmas gift to their amazing physicians. It was emotional, it was therapeutic and it was the beginning of a new friendship between the Ali Shae Pink Rose Foundation, and our new Platinum Sponsor, the Wyoming Surgical Associates.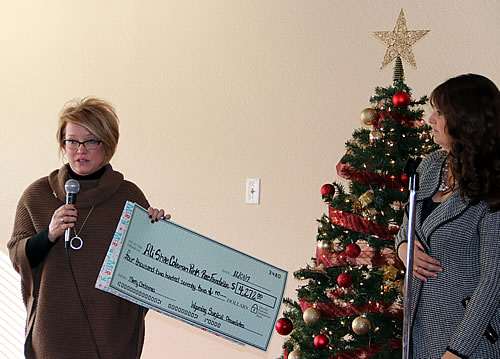 I was invited to their Christmas party to speak of Ali and the Foundation. I have never thought of myself as a "speaker" or a source of inspiration and while Ali's story is beautiful it is also a very difficult one to tell. Needless to say I was sweating and holding back tears-praying I would make sense.
I was so grateful for the nurses/staff who met me at the door, hugged me warmly and made me feel at ease. It gave me a window into how they treat each and every one of their patients.
I am happy to report, I got through the presentation! Yes, I cried. And I felt something new afterwards: a feeling of connection. I am so touched by the support of this community, who together with the Pink Rose Foundation is building an incredible resource for children and family touched by cancer.
Visit the Wyoming Surgical Associates website to learn more about this fantastic organization: http://www.wyosurgeons.com
Thank you, Wyoming Surgical Associates, for joining us in offering comfort and education to more families and children affected by cancer!